Madhabi Chatterji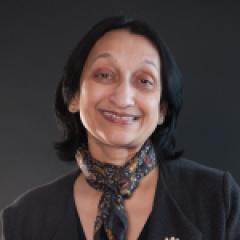 Teachers College, Columbia University
Madhabi Chatterji is Professor of Measurement, Evaluation, and Education at Teachers College, Columbia University, where she founded and directs the Assessment and Evaluation Research Initiative (AERI, www.tc.edu/aeri), a center dedicated to promoting meaningful use of assessment and evaluation information, internationally and across disciplines. She received her Ph.D. from the University of South Florida.
Professor Chatterji's research and teaching interests lie broadly in assessment-evaluation methodology. Specifically, her work has focused on instrument design, construct validation and validity issues; evidence standards and the evidence debate; a diagnostic model of classroom assessment; and assessment policy issues in K-12 education, health and psychology, including the topics of educational equity and standards based reforms. 
Madhabi was named a Fulbright Research Scholar (2008) to study issues of gender equity and quality of primary schooling in government schools in West Bengal, India and Bangladesh. She also received an Outstanding Publication Award from the American Educational Research Association (2004) and a Distinguished Paper Award from the Florida Educational Research Association (1993) for her research publications on systems-based, mixed methods approaches to evidence-gathering and use,  and complementary use of multiple measurement models for validating construct measures.  
In educational assessment, Madhabi's recent publications include the book, "Validity and test use: An international dialogue on educational assessment, accountability and equity" (2013, Emerald Group Publishing); a special issue of the Teachers College Record (Volume 115, No. 9, 2013) and two special issues of issues of Quality Assurance in Education (Volume 22, Nos. 1 and 4, 2014) that she guest-edited; and a co-facilitated blog for Education Week on assessment policy issues in 2014 (http://blogs.edweek.org/edweek/assessing_the_assessments/). Her most recent publication on evidence standards is "L.E.A.D.: A framework for evidence gathering and use for the prevention of obesity and other complex public health problems" in Health Education & Behavior (2014). 
Madhabi has served on several national and international panels and editorial advisory boards over time, including the Educational Researcher, Educational Measurement: Issues and Practice, and an expert consensus committee on evidence frameworks for decision-making in obesity prevention at the Institute of Medicine, now the National Academy of Medicine. She is a Fellow at the National Educational Policy Center since 2006, and is now the co-editor of Quality Assurance in Education, an international journal in educational evaluation. She is also on her second term as a member of the university-wide Faculty Steering Committee of the Columbia Global Center-South Asia.
Email Madhabi Chatterji at mb1434@tc.columbia.edu