Arizona Stories from School: Accountability: The Crushing Weight of It All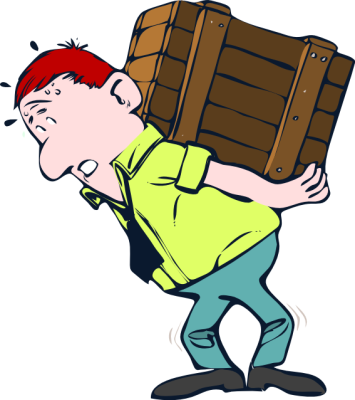 Everywhere I turn today, "accountability" is suffocating the life out of schools, teachers, and administrators. Accountability looms large in high-stakes testing for students, teacher evaluations, and around this time of year: Teacher End-of-Year Checkout. If you aren't a teacher, you might think the end of the year involves fun stuff like student promotions, celebrations, and planning vacations. But if you are a teacher, you know the pain of End-of-Year Checkout.
In my role, I have THREE separate, multi-page End-of-Year checkout documents: my school campus checkout, preschool checkout, and special education checkout. In total, it's about 12 pages of tasks to read, accomplish, and—for accountability's sake—signatures to collect verifying that I have accomplished the tasks. I suppose I don't really mind the actual process (although time consuming) because I understand the importance of getting all the things done. But this year, I had to attend training meetings for all three of these check outs—totaling two hours of lost time. As an experienced teacher completing my fifth year in the district, it makes me a little bit crazy to attend MANDATORY trainings about End-of-Year Checkout procedures that barely change year to year. Call me crazy, but I would happily sign a statement saying "I forfeit my last check if I fail to read and complete the list of tasks, and I waive my right to attend a training meeting about this topic." Seriously. Going to "training" about this stuff makes me feel like a child.
In the case of one particular (unnamed) department, getting access to documents about End-of-Year checkout this year was like getting access to classified government documents…from another country…as an imprisoned war criminal. For the purpose of full disclosure: I missed the initial training because it fell on the same day as my dissertation proposal (which I scheduled after an early release day to decrease student impact). All employees who missed the training were required to attend a mandatory after school makeup session. The department stated that no employees would receive e-copies of these documents until all employees attended the training. To me, it was a little much. Do we need all of this secrecy to hold teachers "accountable" for check out expectations?
Over the two weeks between the initial training and the scheduled make up training, there were emails with references to items in the check out documents. Reading the emails was like reading code language since the department would not share the Holy Grail of check out documents. I printed the secret-code emails, hoping they would make sense when I attended the training.
Finally, the make up training day arrived. I took the secret-coded emails (and a good attitude!) to find out the top-secret information so I could complete my professional end-of-year tasks. The Holy Grail was nearly upon me…until the facilitator told me they ran out of copies. As I sat through an hour-long training without a copy of the documents, I was struck by the utter ridiculousness of it all. The facilitator told me: "Just print the check out documents when I send them to everyone by email tomorrow." I was further encouraged: "It's pretty much the same as last year and you know how it goes." Those comments summed up my exact frustrations. Why are we going to such ridiculous lengths to suffocate educators with accountability? When did we stop trusting teachers to be professionals? I think that accountability has gone too far.
I think it's time to re-professionalize this profession and stop having mandatory meetings for the sake of accountability. These practices exhaust experienced teachers and may even contribute to attrition from the profession. If accountability must reign—let's be more accountable for treating experienced teachers as professionals and using their time wisely. Let's hold teachers accountable for advancing the profession and advocating for kids. Let's ask experienced teachers to be accountable for mentoring early career colleagues—for answering their questions and providing support if events like End-of-Year checkout get confusing. But when we are simply pushing accountability for accountability's sake, there's little time left for anything else.
This blog post has been shared by permission from the author.
Readers wishing to comment on the content are encouraged to do so via the link to the original post.
Find the original post here:
The views expressed by the blogger are not necessarily those of NEPC.