Radical Eyes for Equity: Does Instruction Matter?
For me, the pandemic era (and semi-post-pandemic era) of teaching has included some of the longest periods in my 39-year career as an educator when I have not been teaching.
The first half of my career as a high school English teacher for 18 years included also teaching adjunct at local colleges during the academic year along with always teaching summer courses (even while in my doctoral program).
Currently in my twenty-first year as a college professor, in addition to my required teaching load, I have always taught overloads during the main academic year, our optional MayX session, and (again) summer courses.
Teaching has been a major part of who I am as a professional and person since my first day at Woodruff High (South Carolina) in August of 1984.
However, during pandemic teaching, I have experienced several different disruptions to that teaching routine—shifting to remote, courses being canceled or not making (especially in MayX and summer), and then coincidentally, my first ever sabbatical during this fall of 2022 (in year 21 at my university).
One aspect of sabbatical often includes the opportunity to reset yourself as a scholar and of course as a teacher. As I was preparing my Moodle courses for Spring 2023, I certainly felt an unusually heightened awareness around rethinking my courses—an introductory education course, a first-year writing seminar, and our department upper-level writing and research course.
Here is an important caveat: I always rethink my courses both during the course and before starting new courses. Yes, the extended time and space afforded by sabbatical makes that reflection deeper, I think, but rethinking what and how I teach is simply an integral part of what it means for me to be a teacher.
For two decades now, I have simultaneously been both a teacher and teacher educator; in that latter role, I have been dedicated to practicing what I preach to teacher candidates.
I am adamant that teacher practice must always reflect the philosophies and theories that the teacher espouses, but I am often dismayed that instructional practices in education courses contradict the lessons being taught on best practice in instruction.
In both my K-12 and higher education positions, for example, I have practiced de-grading and de-testing the classroom because I teach pre-service teachers about the inherent counter-educational problems with traditional grades and tests.
Now, here is the paradox: As both a teacher and teacher educator my answer to "Does instruction matter?" is complicated because I genuinely believe (1) teacher instructional practices are not reflected in measures of student achievement as strongly (or singularly) as people believe and therefore, (2) yes and no.
The two dominant education reform movements over the past five decades I have experienced are the accountability movement (standards and high-stakes testing) and the current "science of reading" movement.
The essential fatal flaw of both movements has been a hyper-focus on in-school education reform only, primarily addressing what is being taught (curriculum and standards) and how (instruction).
I was nudged once again to the question about instruction because of this Tweet: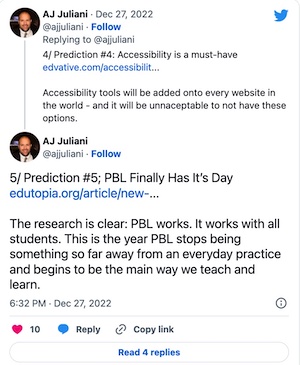 I am deeply skeptical of "The research is clear: PBL works" because it is a clear example of hyper-focusing on instructional practices and, more importantly, it is easily misinterpreted by lay people (media, parents, and politicians) to mean that PBL is universally effective (which is not true of any instructional practice).
Project-based learning (PBL) is a perfect example of the problem with hyper-focusing on instruction; see for example Lou LaBrant confronting that in 1931:
The cause for my wrath is not new or single. It is of slow growth and has many characteristics. It is known to many as a variation of the project method; to me, as the soap performance. With the project, neatly defined by theorizing educators as "a purposeful activity carried to a successful conclusion," I know better than to be at war. With what passes for purposeful activity and is unfortunately carried to a conclusion because it will kill time, I have much to complain. To be, for a moment, coherent: I am disturbed by the practice, much more common than our publications would indicate, of using the carving of little toy boats and castles, the dressing of quaint dolls, the pasting of advertising pictures, and the manipulation of clay and soap as the teaching of English literature. (p. 245)

LaBrant, L. (1931, March). Masquerading. The English Journal, 20(3), 244-246. http://www.jstor.org/stable/803664
---
LaBrant and I both are deeply influenced by John Dewey's progressive philosophy of teaching (noted as the source for PBL), but we are also both concerned with how the complexities of progressivism are often reduced to simplistic templates and framed as silver-bullet solutions to enormous and complex problems.
As LaBrant notes, the problem with PBL is not the concept of teaching through projects (which I do endorse as one major instructional approach), but failing to align the project in authentic ways with instructional goals. You see, reading a text or writing an essay is itself a project that can be authentic and then can be very effective for instruction.
My classrooms are driven, for example, by two instructional approaches—class discussions and workshop formats.
However, I practice dozens of instructional approaches, many planned but also many spontaneously implemented when the class session warrants (see Dewey's often ignored concept of "warranted assertion").
This is why Deweyan progressivism is considered "scientific"—not because we must use settled science to mandate scripted instructional practices but because teaching is an ongoing experiment in terms of monitoring the evidence (student artifacts of learning) and implementing instruction that is warranted to address that situation and those students.
So this leads to a very odd conclusion about whether or not instruction matters.
There are unlikely any instructional practices that are universally "good" or universally "bad" (note that I as a critical educator have explained the value of direct instruction even as I ground my teaching in workshop formats).
The accountability era wandered through several different cycles of blame and proposed solutions, eventually putting all its marbles in teacher quality and practice (the value-added methods era under Obama). This eventually crashed and burned because as I have noted here, measurable impact of teaching practice in student achievement data is very small—only about 10-15% with out-of-school factors contributing about 60-80+%.
The "science of reading" movement is making the exact same mistake—damning "balanced literacy" (BL) as an instructional failure by misrepresenting BL and demonizing "three cueing" (see the second consequence HERE, bias error 3 HERE, and error 2 HERE).
Here is a point of logic and history to understand why blaming poor reading achievement on BL and three cueing: Over the past 80 years, reading achievement has never been sufficient despite dozens of different dominant instructional practices (and we must acknowledge also that at no period in history or today is instructional practice monolithic or that teachers in their classrooms are practicing what is officially designated as their practice).
In short, no instructional practice is the cause of low student achievement and no instructional practice is a silver-bullet solution.
Therefore, does instruction matter? No, if that means hyper-focusing on singular instructional templates for blame or solutions.
But of course, yes, if we mean what Dewey and LaBrant argued—which is an ongoing and complicated matrix of practices that have cumulative impact over long periods of time and in chaotic and unpredictable ways.
From PBL to three cueing—no instructional practice is inherently right or wrong; the key is whether or not teachers base instructional practices on demonstrated student need and whether or not teachers have the background, resources, teaching and learning conditions, and autonomy to make the right instructional decisions.
Finally, hyper-focusing on instruction also contributes to the corrosive impact of marketing in education, an unproductive cycle of fadism and boondoggles.
In the end, we are trapped in a reform paradigm that is never going to work because hyper-focusing on instruction while ignoring larger and more impactful elements in the teaching/learning dynamic (out-of-school factors, teaching and learning conditions, etc.) creates a situation in which all instruction will appear to be failing.
Reforming, banning, and mandating instruction, then, is fool's gold unless we first address societal/community and school inequities.
This blog post has been shared by permission from the author.
Readers wishing to comment on the content are encouraged to do so via the link to the original post.
Find the original post here:
The views expressed by the blogger are not necessarily those of NEPC.